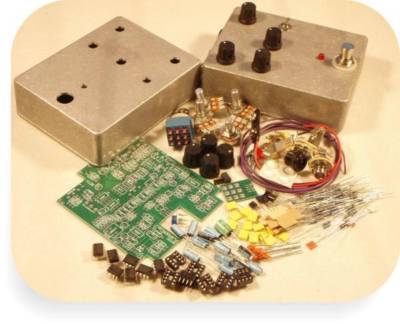 BYOC
BYOC Stereo Analog Flanger Kit
---
The BYOC Stereo Analog Flanger isn't exactly a clone of anything in particular. We took the best qualities from several different flanger circuits and combined them to create what we thought was not only one of the best flangers ever, but also a flanger that could be easily modified to dial it in
the way you want to.
The BYOC Stereo Analog Flanger features Rate, Depth, Regeneration, and Manual knobs. It has dual outputs with the stereo output being out of phase with the mono output. And it's completely true bypass. One of the features that makes the BYOC Stereo Analog Flanger truely unique is the Differential Toggle switch. When in Normal Mode, it uses only one bucket brigade delay chip similar to the way the MXR, BF-2, and Pearl Flangers worked. When in Differential Mode, it adds a second bucket brigade delay chip that is in parallel and out of phase with the first BBD chip similar to the way that the A/DA and Electric Mistress flangers worked.
We are a BYOC Effects Authorized Dealer!
Bonus: V3208 Bucket Brigade Delay chip Included!
Features:
Quality Components
DIY Kit
9v adapter or 9v battery supported(not included)
Differential toggle
---
Share this Product
---
More from this collection