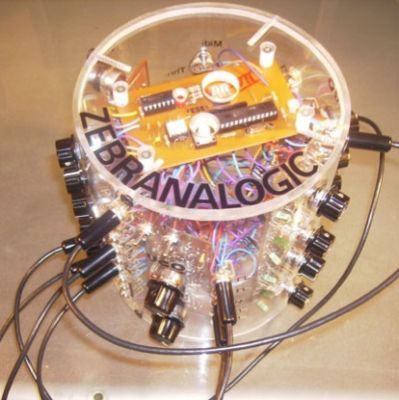 Zebranalogic
Zebranalogic Circular Oscillator VII
---
Circular Oscillator
This unit is one of the latest rarities of Zebranalogic. It's designed to be played horisontally. It comes with 2 Vco's, in different tones of frequency, low to high. It has 4 Lfo's implemented in different tempo, and a envelope filter which makes it possible to generate exquisite tones. It comes with a five channel mixer, in which two channels are used by the envelope filter and the three others are free for additional mixing.
This unit has a Stereo Output and comes with a 110ac - 220ac Adaptor, 9 V dc. It has 1/8 inputs to be sent through any controller of 0 - 5 V or a Midi Cv. This unit can also be configured as you can see on the video, via patches. You can play it aleatorically or in an ordered form, without risk of it being damaged.
-This unit comes with Midi (in/thru).
-Lfo 4 output through each lfo triangular and square output 1/8.
-Envelope filter inputs for controls 1/8.
- vco output 1/8 square wave shape.
-output 1/8 sawtooth wave shape.
-input 1/8 to control the lfo or any cv transmitor up to 5 V inputs 1/8 for retroalimentation of the vco.
-3 independent inputs 1/8 for alternate combinations.
-This unit comes with 5 plug/plug 1/8.
-master volume and Stereo Output.
---
Share this Product
---
More from this collection