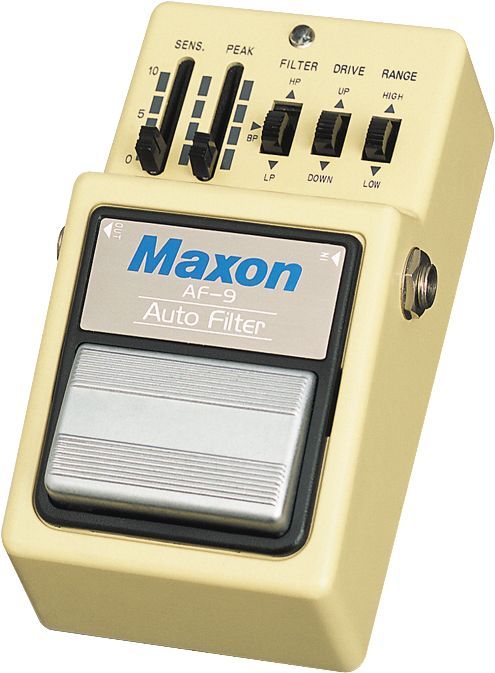 Maxon
Maxon 9 Series AF-9 Auto Filter Pedal
---
Originally introduced as a key component of analog synthesizers, envelope controlled filters came into prominence in the early 1970s with the release of the legendary Mutron III. Envelope filters are wah-wah type sliding filters that are triggered by an input voltage. Unlike standard wah pedals whose center frequency is controlled by moving a treadle, an envelope filter's center frequency is controlled by playing dynamics, allowing for an almost unlimited variety of effects based on expressive nuances in a player's performance.
The AF-9 Auto Filter represents the state-of-the art in analog filtering. Like the original Mutron III, the AF-9 uses a CdS Photocoupler (HTV #P873) rather than a VCA at the heart of its circuit. The unique sound of Photocoupler circuitry provides a liquid, shimmering, vowel-like filtering that cannot be produced with other components, giving the AF-9 superior sound quality with lower noise levels than the competition.
The AF-9's Threshold control determines when the effect will trigger, while the Peak control boosts the center frequency for more dramatic filtering (like a Resonance control on a synthesizer). Selectable Range control (Hi/Low) determines the overall tone of the AF-9, while the Drive (Up/Down) control determines the direction of the filter sweep. Three selectable Filter types (Hi Pass, Band Pass, and Low Pass) and a frequency range of 100 Hz Ð 4 KHz allow the AF-9 to function with virtually any instrument or input signal.
From simple wah-wah's to outer-space noises, the AF-9 provides the most desirable swept filter effects in a compact, user-friendly package. 
Maxon AF-9 Auto Filter Features
The coolest aspects of auto-wah and swept filter effects
Opto-coupler circuitry produces vintage shimmering, watery filtering effects
Threshold and peak sliders control the degree of effect
Range and drive switches determine range and direction of filter sweeps
3 selectable filter types: Lo Pass, Band Pass, and Hi Pass
100Hz-4kHz range for staggering effects with any instrument or input signal
True bypass
Die-cast zinc case
3-year warranty
AC/DC operation (order optional Maxon AC210N adapter)
---
Share this Product
---
More from this collection