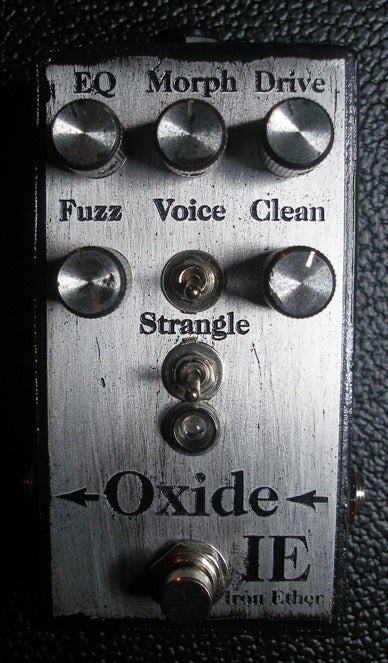 Iron Ether
Iron Ether Oxide Fuzz Pedal
---
The Oxide is a morphing gated fuzz, allowing the user to seamlessly morph between a raucous, industrial octave fuzz inspired by the Maestro Bass Brassmaster, to a modern synthy fuzz with a pinched, gated sound. It includes a clean blend to allow extreme amounts of fuzz without losing low end.
Morph knob: Morphs from the classic Brassmaster sound on one side, to a gated synthy sound on the other side. This isn't simply a blend between 2 fuzz styles; it morphs continuously from one extreme to the other. On the right side of the dial lives the Brassmaster-inspired sound. Changes of the Morph knob on this side result in subtle tonal changes. As the knob is turned towards the left, the sound becomes increasingly gated and synthy; in this range the morph knob effects both how gated the sound is, and also the pulse width (starting as a thick square wave and getting increasingly narrow and pulse-like).
Drive amount: At low levels, the drive generates octave up harmonics, ideal for thickening a bass or guitar. As the drive is increased, the sound becomes further saturated.
Fuzz level: Controls the volume of the fuzzed signal.
Clean level: Controls the amount of clean signal to be blended with the fuzz signal. Blending the clean in allows for extreme amounts of fuzz and gating to be applied without losing the low frequencies of your instrument.
EQ: Progressively cuts high frequencies, while leaving mids and bass flat.
Voice switch: Switches between two different voicing settings: one is slightly mid-scooped, the other has a pronounced vocal-like mid boost.
Strangle switch: Cuts low frequencies in front of the fuzz, allowing only the high frequencies to be fuzzed. Blending in the clean while using this mode allows for clean bass with fuzzed harmonics.
Measures 4.7″ x 2.5″ (12cm x 6.3cm).
Runs on industry-standard 9 volt DC center negative power supply.
Click-free relay-based true bypass.
Each Oxide is individually

etched

and painted by hand. No two Oxides will look the same.
---
Share this Product
---
More from this collection